Welcome, I'm Connie.
An author, speaker, serial entrepreneur, and connector dedicated to helping parents and students discover who they were created to be and how to cultivate lasting relationships.
A small town Florida girl who discovered a big world. She is a national keynote speaker, best-selling Amazon author, one of the country's most respected homeschool leaders, and a highly sought after strategist. What she enjoys most is helping ordinary people learn how to paint pictures of possibilities for their children, their future, and their faith so they can build extraordinary lives. Since 1986, Connie Albers has been a go-to resource for moms who want to serve the Lord and their family while using their gifts to shape and influence their community and are ready to learn how to manage the stop and go of life, cultivate close relationships, and save money so they can enjoy life.
I'm a people person who believes we must run our race with intentionality while supporting others who are running theirs. One of my biggest passions is helping parents love their children well as they juggle the demands of life, work, and community.
If parenting gets confusing – I've been there. And I can help you find a way to cultivate the relationship you desire with your kids. If you need help with your budget – I've got you covered. We've raised five kids and put them all through college debt-free, with no student loans or prepaid college programs. You can do it! If you know you have gifts, strengths, and talents, but don't know how to discover what they are – you're not alone. I'll guide you through the maze. If you're a busy mom with little time to spare-this site is for you. I've got five kids with a long to-do list, so I get it. What you get here is proven ideas, sage wisdom, easy to apply information in a straightforward approach to help you sort through the fluff so you can enjoy creating a close family. I learned first-hand how to develop real-life tools that I share on this site to give you a head start. I made a lot of mistakes along the way, and I share those, too, so you don't have to do the same. Why spend your valuable time hoping what you do will work. One thing I've learned is what works for one family might not work for yours. I talk about that. I've spent 25 years learning and listening to teens, building relationships, and discovering how to overcome fear and doubt.
A few years later and now I've graduated five children from college debt-free, published Parenting beyond the Rules, spoken around the country giving keynote presentations and how to seminars, to appearing on 100 Huntley Street, Welcome Home, and ABC morning TV guest spots. I've also been profiled in various publications including Connect Magazine, Relevant Magazine, and Teaching Home Magazine as well as being a guest on a variety of podcasts. My topics include parenting, finances, working mothers, homeschooling, screen time and social media for kids, family relationships, to mom-care and marriage. In every interview I give, and throughout my life, I am grateful for the opportunity to share my story of hope and perseverance, and how I went from clueless to living my calling to helping others do the same. I take the guesswork out of it because I've been there and lived it. The results are measurable. No wondering if what I say will work. I'm a mom of many who desires to help you navigate the seasons of motherhood, marriage, life, and work.
When I'm not sharing practical tips and how to strategies I love to shake it up with impromptu moments from my life with five adult kids, moments of self-reflection, lessons God is teaching me, hangouts with girlfriends, fun video shoots, and my nonstop life. I've learned I have to make myself be still -something I work on every day.
I'm not perfect, I'm definitely not Pinterest-perfect, but my promise to you here on ConnieAlbers.com is to bring you the very best of what I'm learning and have learned by keeping it real, honest, and a whole lot of fun. Life is too short to waste time; I'll help you avoid missteps so you can live with confidence and joy while painting pictures of possibilities for your family.
I'm a people person who believes we must run our race and need to support others who are running theirs. One of my biggest passions is helping parents love their children well as they juggle the demands of life, work, and community. For years I tried to "fit" into a nicely defined career box, but my natural curiosity for why people do what they do and a passion for helping women see the beauty within drove me to take chances like the time when I was seventeen years old and borrowed $500 from a family friend to start a branding/imaging business.
That was my first real business adventure. There were other smaller ventures like selling mangos in front of my house, pulling weeds for my neighbors, so I had money to buy candy from the local candy store, and working at my parent's business selling go-kart tickets after school. These experiences led me to more exciting opportunities, like becoming a spokesperson for a Fortune 500 company to developing social media campaigns for non-profits to coaching communicators all while homeschooling my five children and shaping the homeschool movement. When asked, "How did you do it all?" I reply, "One season at a time!"
Because I didn't know what I wanted to do with my life, I decided to figure out what I was good at and start from there. I discovered that I enjoy helping women run their race well. My goal on this blog is to equip women in their calling and help them parent well. One of the ways I do this is by providing useful, relevant content that you can use to manage your extraordinary, sometimes hectic schedules.
My personal goal is to live intentionally with this guiding principle as I have continually sought to balance roles as a wife and mother, business partner and active volunteer, speaker and writer, parenting expert and homeschooling mom, and coach and consultant. Through it all, I've learned to discover resilience and the joy between the "stop and go's" of life. I've also learned to practice the art of generosity by using the gifts, talents, and resources, God has generously given me to help others pursue their calling.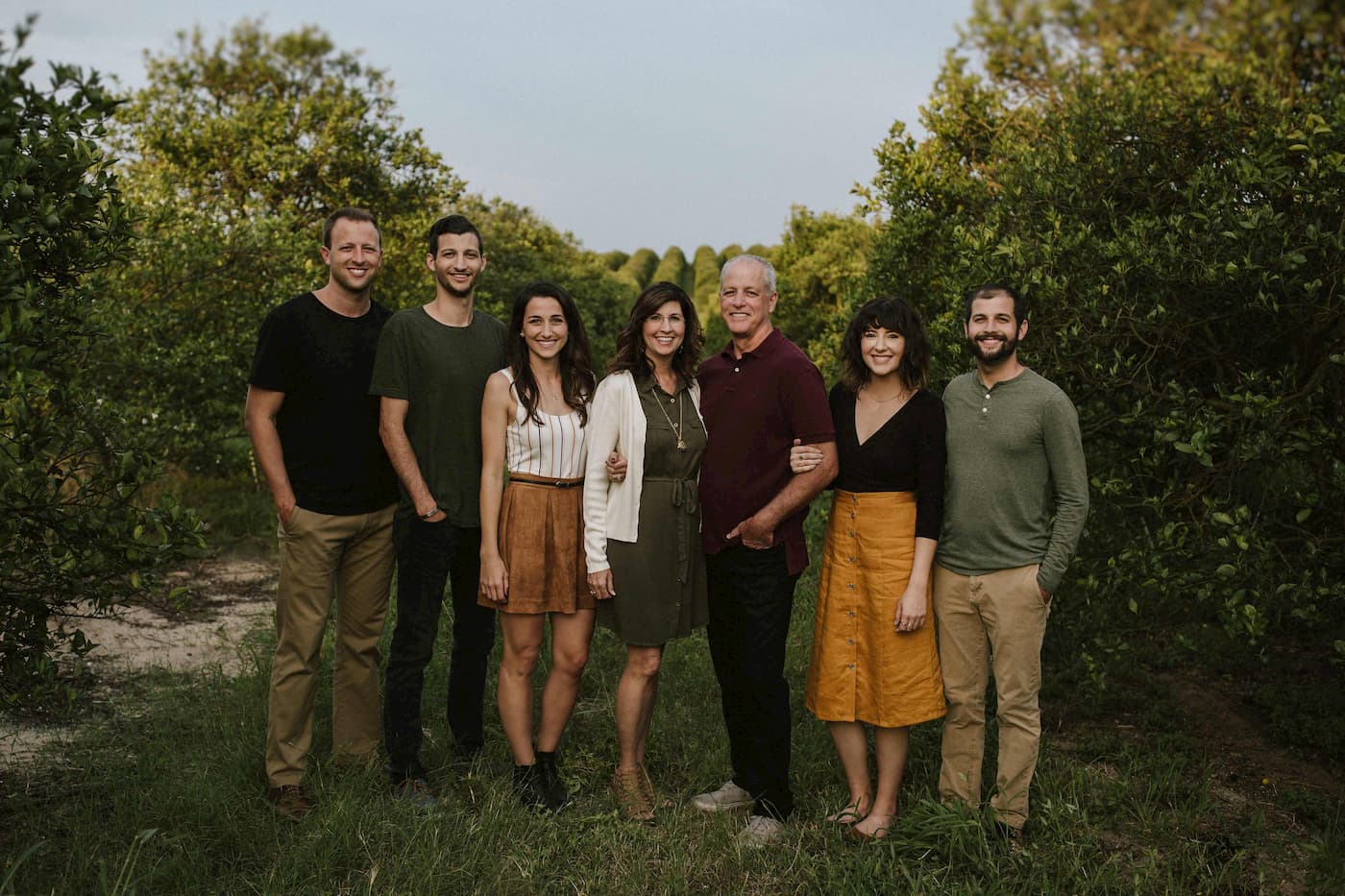 What most people don't know about me is that I was raised to be career focused. Marriage and children didn't fit into my plan. Then my plans changed. You see while I was interviewing for the job as the Walt Disney World Ambassador, I met a man. He was everything I wasn't. Tom and I met in the singles ministry at our church. The problem was we weren't looking for someone. During Tom's sophomore year of college, he vowed not to date until he was sure he met the "right" girl. I'm not always sure he found her, but we've been making our marriage work for thirty-five years and counting. Marriage isn't as much about finding the right person as it is about being the right person and putting each other ahead of self.
Not long after we were married, our family of two became a family of three, then four, then five, then six, then seven! We were blessed to have five children in seven years — lots of little people to teach and train.
My desire to change the world remained tucked in my heart! Little did I know I would change the world, but not because of my career! I came to this conclusion after a conversation I had with my grown daughter. We were talking about a new company I was starting when she said, "Mom, look at your family. Look at us kids. Look at what you and daddy built. Mom, this is your life's greatest work. You need to help mom's cultivate and nurture close family relationships. Families that can enjoy doing life together: That's when I learned the most important thing I did was to be a mother to my five children and love my amazing husband. All the other titles and accomplishments didn't have the same impact.
After completing their homeschool journey, all five of my children continued their education at the University of Central Florida on scholarship. I'm humbled and delighted to say they all graduated debt-free and are working in their respective fields. Three are married, and all of them live near-by. We truly are doing life together, and it's a beautiful thing.
Maybe you had a dream of what you wanted to do in life as I did. Perhaps you're still waiting for that dream to come true; its not too late. You may have taken some detours along your journey, but nothing is ever wasted. You will look back and see how God was using every step in your life to bring you to where you are right now!
Its not easy, and I'm certainly no superhero. I've discovered a way to do more of what matters and less of what doesn't.
We are not perfect! We have our share of arguments and broken curfews but, we love doing life together. Our family prays for each other, supports each other, cries with each other, and makes fun memories together. My deepest desire in this season of life is to support you in your journey. The race will be challenging at times.
You can't quit, but you can rest!
I'll be here helping you along the way.
CREATE A RICH RELATIONSHIP WITH YOUR TEEN
Ranked #1 in Amazon in Parenting Teenagers: "Parenting Beyond The Rules" by Connie Albers
WORK WITH CONNIE
From speaking to Mom Mentoring….Deliver a relevant message making your attendees glad they came.